Opinion
Carney playing the false repressed minority victim card on behalf of hateful bigoted Christians who nearly completely run the entirety of America
I guess I didn't understand what a gross bigot Tim Carney is, and I'm trying now to decide about removing him from my Twitter list of 220+ journalists, pundits, fact checkers and occasional other randos. I have a few conservative voices on this list because I refuse to live in an informationa bubble like they do, but open bigotry like this just isn't something I want in my life. It's hateful, evil, degrading, anti-human, inhuman and anti-American: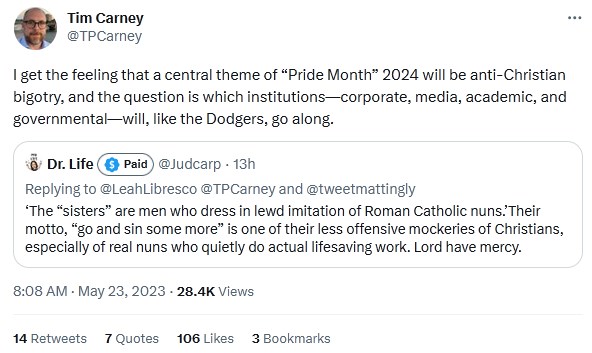 Christians are among the most bigoted people in the world, and in the United States they are the single most powerful majority of any demographic. Whether it be Congress, state legislatures, the Supreme Court or the boardrooms of Big Business, nearly everywhere in America's places of power there's a Christian majority. Corporate, media, government, academic, sports, everything Tim Carney just listed is thoroughly dominated by Christians. There is nowhere in America that is not the case, which is exactly what you'd expect in a country where more than 75% of the population is Christian.
You should challenge anyone trying to play Christians off as some sort of repressed minority in the US. The notion isn't even laughable, it's moronic and uneducated and a vicious lie meant to hide and excuse horrendous anti-LGBTQ+ bigotry, hatred & discrimination. This mess wasn't necessary and was easily avoided, the Dodgers listened to the wrong people — hateful, bigoted people — in excluding this fantastic group in a sad rush to avoid a PR problem rather than only considering what the right thing do was: tell the bigots to pound sand.
This apology from the Dodgers organization is well deserved:
After much thoughtful feedback from our diverse communities, honest conversations within the Los Angeles Dodgers organization and generous discussion with the Sisters of Perpetual Indulgence, the Los Angeles Dodgers would like to offer our sincerest apologies to the Sisters of Perpetual Indulgence, members of the LGBTQ+ community and their friends and families.

We have asked the Sisters of Perpetual Indulgence to take their place on the field at our 10th annual LGBTQ+ Pride Night on June 16th. We are pleased to share that they have agreed to receive the gratitude of our collective communities for the lifesaving work that they have done tirelessly for decades.

In the weeks ahead, we will continue to work with our LGBTQ+ partners to better educate ourselves, find ways to strengthen the ties that bind and use our platform to support all of our fans who make up the diversity of the Dodgers family. (Source: Twitter)